Angel Zhang, a fourth-year University of Chicago student, knew she was interested in quantum science, and she knew she wanted to pursue work that would impact people's lives. But quantum seemed like a field with far-distant applications; she wasn't sure what it would mean to pursue it now.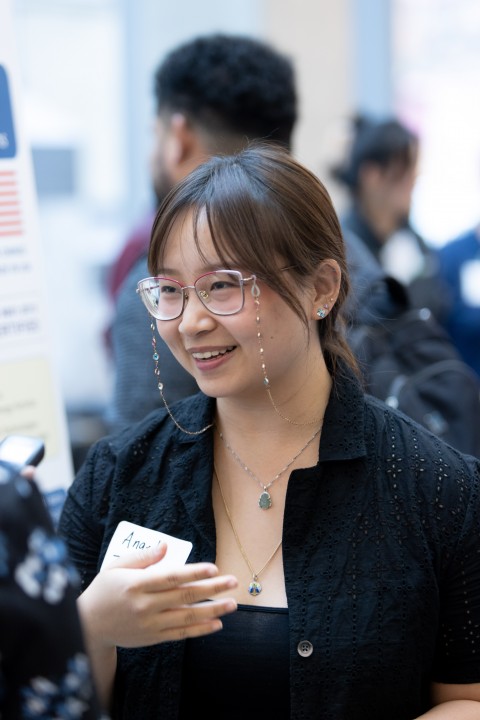 But as she listened to scientists and industry experts at the third annual Chicago Quantum Recruiting Forum last month, she learned that the quantum field was moving forward faster than she thought.
Panelists at the March 31 event, which drew students and trainees to UChicago's William Eckhardt Research Center from undergraduate, graduate, and postdoc programs across the Midwest, talked about the growing number of quantum jobs available in academia and industry as quantum technologies enter the market. Quantum sensing devices that can detect minute changes in the environment are already commercially available, and researchers are testing quantum communications—including on a 124-mile quantum network in the Chicago region.
"There are impressive quantum encryption networks emerging around the world in Asia, Europe, Australia, and of course right here in Chicago," said David Awschalom, the Liew Family Professor of Molecular Engineering at UChicago's Pritzker School of Molecular Engineering and the director of the Chicago Quantum Exchange, as he addressed a packed room of students and trainees at the start of the event. "Quantum sensors are being deployed in commercial products. It's exciting to see that computing, communication, and sensing technologies are appearing, and will impact all of us."
This was welcome news to Zhang, who is majoring in public policy and economics and is a policy intern at a quantum startup. Quantum technology uses the science of the very small—atoms and other particles—to push the boundaries of what's possible with classical technology. The principles of quantum mechanics were discovered more than 100 years ago, but scientists and engineers are just beginning to explore its myriad potential applications.
"It's really great that this is happening," Zhang said as she networked with potential employers at the event's career fair. "I liked getting to hear [panelists] talk about technical opportunities within the field, but also how those opportunities have been expanding. … It'll be really exciting to see more applications come to fruition."